About...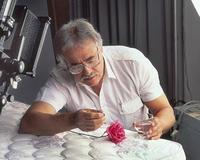 Harry Tyler Photography was owned and run by Harry Tyler until he retired in 2005.
Harry started off his career as a press photographer with the Cape Times (Cape Town, South Africa) in 1960, rising to the position of chief photographer, before resigning to start his own studio in 1965. He had become interested in fashion photography, and from there progressed to all forms of commercial and advertising photography. He rapidly became one of South Africa's leading commercial photographers.
His range of experience is very wide: aerial photography (usually for property developers), portraiture - particularly of the business and political elite (including the State President), interiors, including the entire House of Assembly of the South African Parliament (members and all), and art works for archival purposes, and in later years he concentrated on mail order catalogue work.
For the catalogues, he photographed kitchenware, appliances, consumer electronics, linen, shoes, and luggage; his speciality being the lighting of shiny objects such as stainless steel cookware, glassware, and jewellery.
The studio was in Woodstock, a Victorian-era suburb of Cape Town, now favoured by artists, sculptors, photographers, writers, and other creative people, adjacent to the city centre on the Eastern Boulevard motorway. The ground floor studio was about 550m2, and parked about 6 or 7 vehicles inside under cover, but was not a car-photography studio. The studio was equipped with a fully fitted kitchen for the preparation of food props for the kitchenware shots, as well as several "adjustable" kitchen and bathroom sets on wheels (4,5m x 3,5m) for appropriate backgrounds and settings of kitchenware, towels, etc.
The camera equipment consisted of Sinar 10x8 inch, Sinar 4x5inch (65mm to 360mm) including Polaroid/Fuji Instant 10x8, 4x5, and 6x9, Fuji GX680 III, Mamiya RB67, Pentax67, and Mamiya 6x4.5cm. A recent addition was the Canon 20D for some digital work. The lighting was Broncolor flash and comprised many generators (Grafit) of 1600kj and 3200kj, 2 Hazylights (1mx1m), 2 large area (2mx1m) lamps on overhead rails and several further heads and softboxes on stands.
Stylist for all photographs: June Druker